Welcome to the Perfect Pinterest 101 course,
the simplified fast-track to Pinterest marketing.


This Pinterest course is the ultimate beginners guide to start, optimize, and grow your business through Pinterest marketing.


This comprehensive guide to Pinterest is JAM PACKED with:


-> Video tutorials
-> Actionable Assignments
-> Screen Share Walkthroughs
-> and PROVEN-to-work strategy
Soo...why Pinterest?
With over 300 MILLION active users every month intentionally searching for businesses (like yours), Pinterest is one of the leading sources of business' web traffic.


Pinterest isn't just another social media platform.


Pinterest is a discovery engine where billions of searches are made every month by users who are looking to discover - looking to discover you.
As a content creator like yourself, it is ESSENTIAL that you harness the power of Pinterest - properly.


That's where the Perfect Pinterest 101 course comes in.


This course walks you through the essentials of Pinterest, so you can funnel the hundred of millions of users each month onto YOUR page.


So...what are you waiting for? Enroll today!
You are READY to set up your Pinterest account for business and really start making money in your business!
Are you one of the thousands of people that don't know how to market yourself on Pinterest?
Do you find yourself confused or wondering why your Facebook and Instagram marketing tactics are NOT working on Pinterest?
In the 'Perfect Pinterest 101 ', course, you will learn the ESSENTIAL PIECES to setting up and marketing a Pinterest account for your business with SEVEN modules packed with information about how to lay the foundation to perfect pinning.
This introductory course is perfect for you if:
You are just getting started with Pinterest and want to build a solid foundation to grow traffic to your site
If you aren't getting the traffic to your website that you want
You are on Pinterest, but you don't know to make it work for your business
You are ready to take your blog and/or business to the next level
You want to learn how to market your business on Pinterest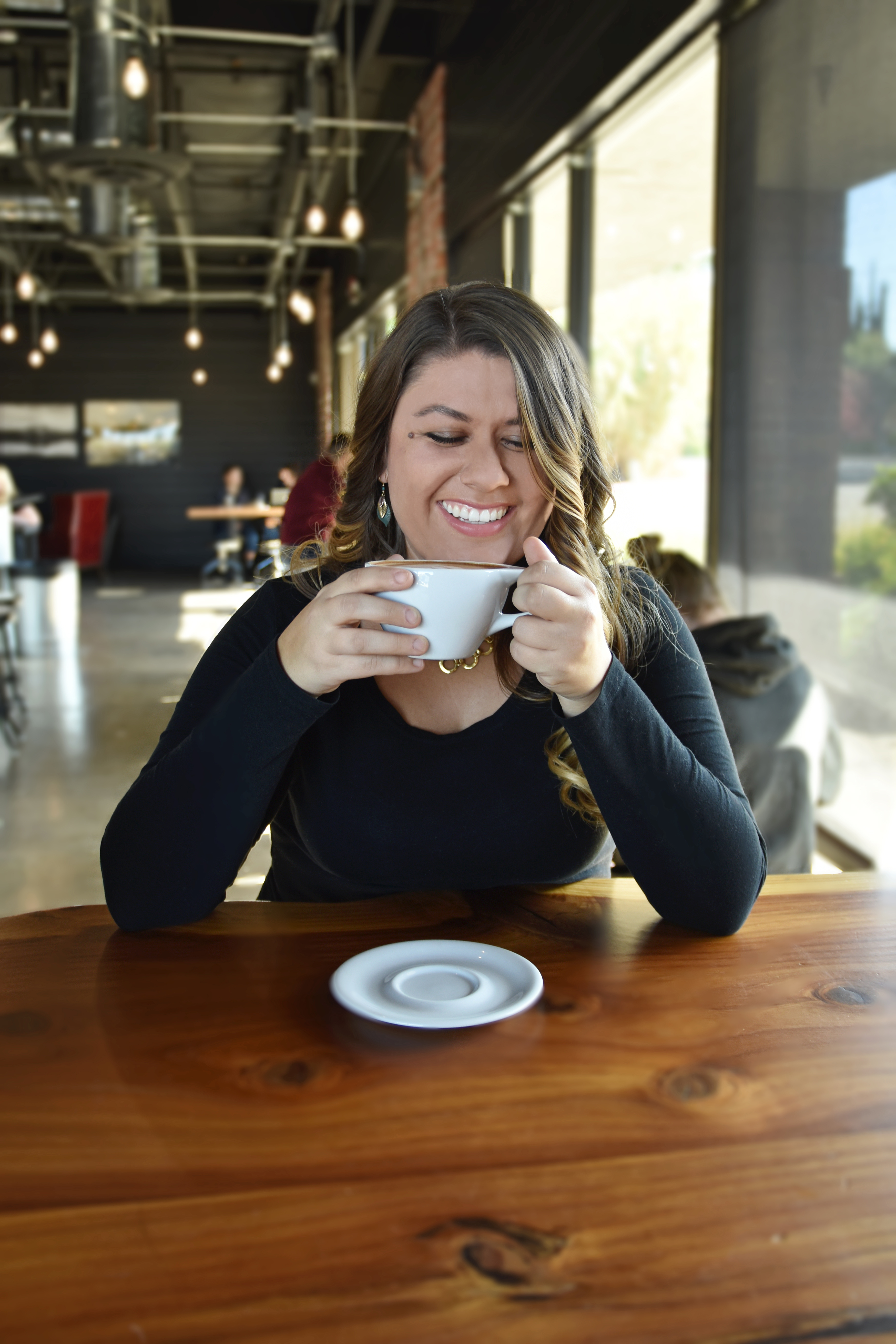 Hi, I'm Melanie!
I am the creator of the Perfect Pinterest 101 course. I am also a Blog and Pinterest Strategist who has helped over a dozen business grow their business through the strategies and methods used in this course.
My mission is to make the power of Pinterest accessible to anyone with any budget, which is what inspired me to create this course.
As a 28-year-old single mom, I understand that we can't all hire someone to do the work for us, and I also understand we don't have time to search for the answer from everyone and anywhere.
My hope for you is that you find all the answers to all of your Pinterest questions in this course, so you can finally drive traffic, grow your visibility, and attract your ideal audience through correct Pinterest marketing.
I am so excited to see you uplevel your business and your knowledge with the Perfect Pinterest 101 course
Meet Ashley
After only 6-weeks of working with Ashley using the SAME methods taught in this course, Ashley saw the most growth she has EVER seen on her Pinterest account and blog.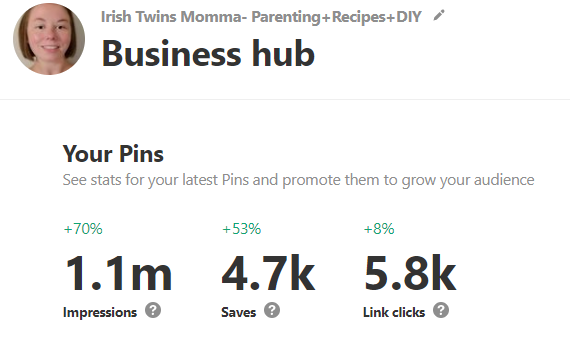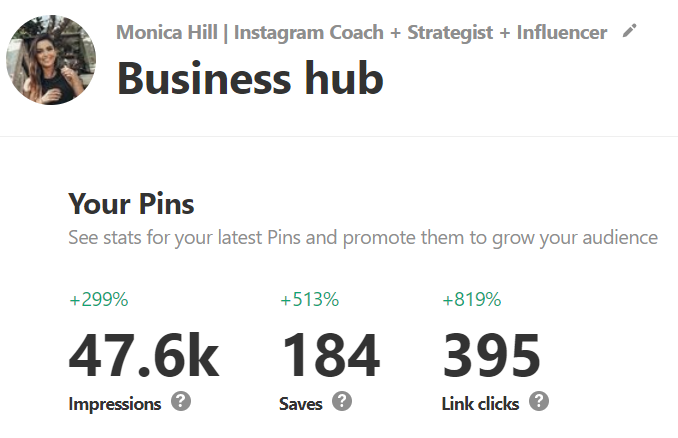 Meet Monica
When Monica and I first started working together, her daily views average 13-15 per day (appx. 420 views visits month).
Now, Monica averages 200 views per day ( apprx. 6,000 visits per month) using the exact same strategies I teach in the Perfect Pinterest 101 course
These results can be yours, too.
Are you SICK of searching Facebook groups and reading dozens of articles about Pinterest, but never finding the RIGHT answers?


This course will give you all the tools you NEED to successfully market your business on Pinterest all in ONE PLACE.
It's time to take your dream to the next level
Frequently Asked Questions
Q: What will I get out of the course?
A: Well, the results are up to how much you want to apply. These methods are PROVEN to work if you take the material and apply them to your account. I can only promise that I will provide you the tools necessary to succeed, but it is up to you to use them!
Q: When will I have access to the modules?
A: The first module will be available as soon as you purchase the course and create your login information!
Each module will become available the day after the previous module is available. So you sign up, you get the welcome message and module 1, the next day you get module 2, the following day you get module 3, etc.
Q: How long do I have access to the course?
A: Forever! Once you've enrolled and paid, you'll have access to the course material for as long as you need it. So devour it all in one weekend or take things slow. It's your choice!
Q: I still have a question, how can I contact you?
A: I'd be happy to answer any questions you might have. Send me an email at [email protected].
Q: What if I am unhappy with my purchase?
A: Well, I would be sad, but if you're reeally unhappy with the course just email me within 48 hours of the purchase to get a full refund.
Save precious time and sanity by taking the leap and invest in your business TODAY.


It's time to jump in feet first and start getting unbelievable traffic by building the foundation for Pinterest to market your blog and business.


You are ready for this!


Ready...Set...GO